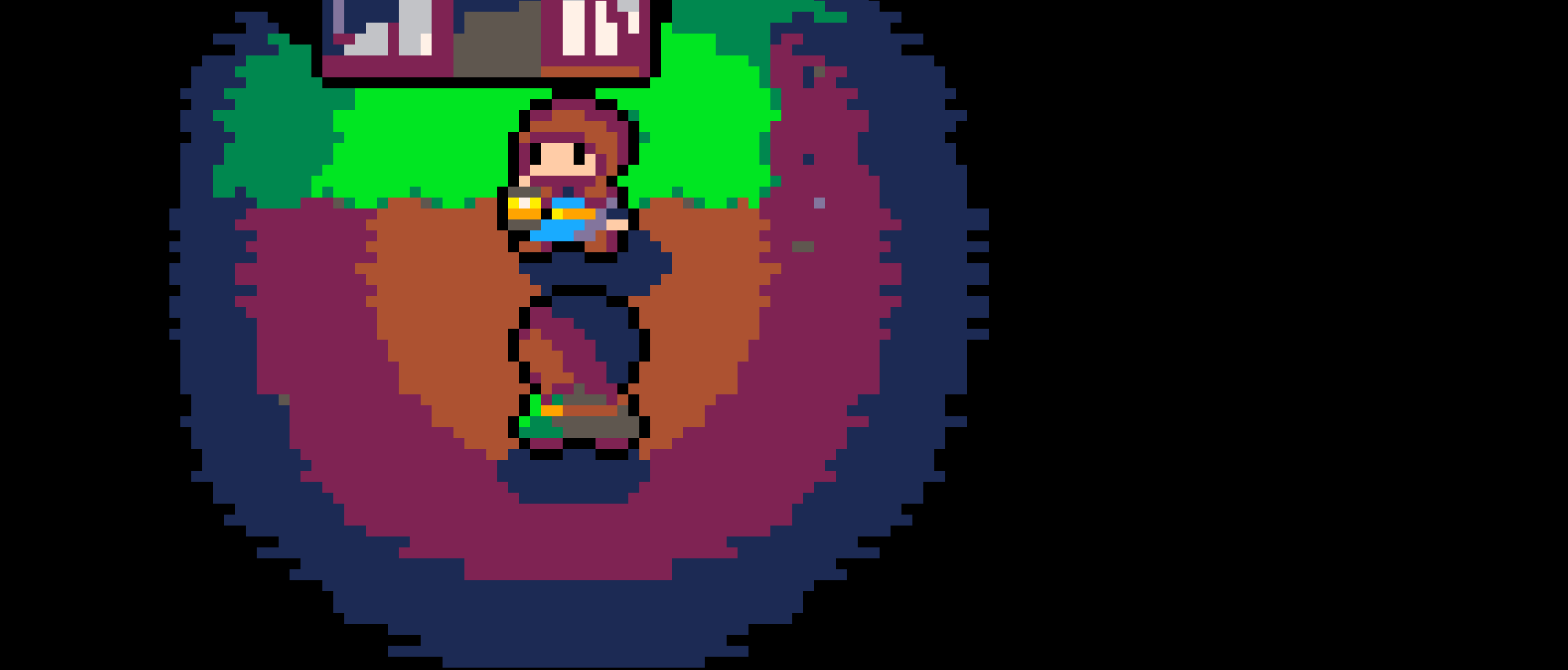 Darkest Moon
Darkest Moon is an arcade-style game where the goal is to get the highest score possible before inevitably succumbing to the relentless progression of the game. The player controls a nameless farmer in the Dark Ages whose only goal in life is to plant and harvest wheat in order to survive and make it to the next day. An average play session lasts between five and fifteen minutes before the marauder becomes too fast and overtakes the player.
I made this game as the final project for a creativity class when I was still in college.
Lighting and object-oriented code modified from Jakub Wasilewski's Dank Tombs Tech Demo.

| | |
| --- | --- |
| Status | Released |
| Platforms | HTML5 |
| Release date | Mar 05, 2017 |
| Rating | |
| Author | Jesse Millar |
| Genre | Survival, Role Playing |
| Made with | PICO-8, Adobe Illustrator |
| Tags | 8-Bit, Arcade, Atmospheric, Dark, Farming, Medieval, Pixel Art, Short |
| License | MIT License |
| Average session | A few minutes |
| Languages | English |
| Inputs | Keyboard |
| Links | Source code |
Comments
Log in with itch.io to leave a comment.
i really like this game, but the music is a bit creepy
Love the lighting effects!! The fact that it clips around corners is the cherry on top!
I really like this game! Keep up the good work!
i love this game. its atmosphere is great and after a while i really got the message you where trying to convey. i hope you make more games in this ominous/horror genre. i would totally play a horror game you made!
A very neat, short game! I like how when playing I had fun trying to maintain a good score, and yet was constantly reminded that I would eventually be caught by the unsettling atmosphere. which was on point.
what is the software used for make this
Hey, saw your post on reddit! I just finished playing for a few minutes.
Visually, the game is really appealing! I love the sprites. The shadow effects that you have on the house and trees are a nice detail, and I really like how the light around the lantern is handled. I like the music as well, the loop is simple and created a good ambiance without being irritating after listening to it for so long. The logo is also clever, when I saw it first I thought this would be some kind of creepy pasta.
I don't really understand how the streak system works? I'd plant and harvest all my seeds and get a streak bonus, and then do the same thing the next day and my streak would be ruined. Is this an error on my part?
All in all, it's a really nice small game to have been made for a class!
Thank you, Malisa! I really appreciate your comments!
I agree that the streak system is slightly cryptic. As you mentioned, if you plant and harvest all your seeds in a day, your streak goes up. There are a couple sneaky ways the streak can die. If you accidentally plant two seeds on top of each other, you lose a seed and your streak ends. Also, if the marauder steals one of your bundles of wheat before you collect it, your streak ends.
Hope that makes sense. Thanks for playing!